Just like humans, cats can get cold in the wintertime. One way to solve that is heat lamps for cats. Having a heat lamp for your cat will keep them toasty as you watch TV or sit at your desk.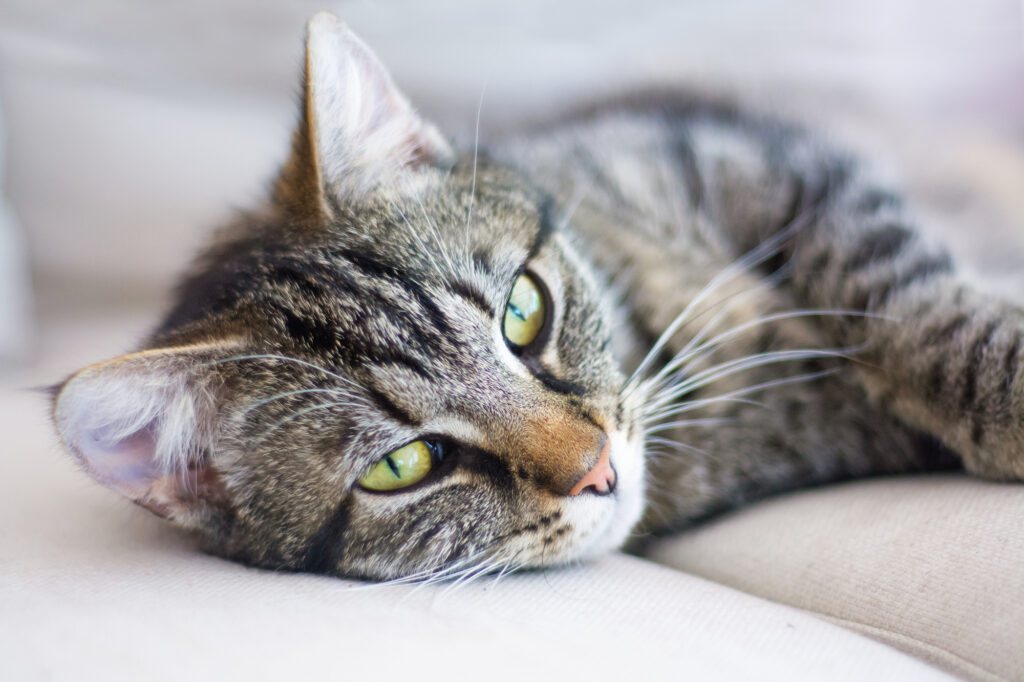 Why do cats like heat lamps?
Cats are warm-blooded mammals and keep their internal body temperature steady at around 100.4º to 102.5º Fahrenheit. Their bodies can adjust to external temperatures by panting or huddling up in a warm spot. However, when the outside temperature is below freezing, your cat will seek a warm place you provide for him/her.
Many cats enjoy lying in the sun, so it's not surprising that they like heat lamps. But unfortunately, some cats become more lethargic in winter and spend more time napping than during those hot summer days!
In addition to warmth, cats like to feel safe and secure while warming up with a heat lamp for cats.
A cat in need of comfort will seek out a secluded place with no drafts where he/she can curl up into a ball and cuddle itself for extra warmth.
Cats have been known to sleep under cars parked on sunny days because they offer shelter from the wind while providing heat from the sun's rays reflected off their shiny surfaces!
What is a heat lamp for cats?
A heat lamp for cats is an electric lamp that emits infrared radiation, which helps keep the area around the lamp warm for your feline friend. There are a few different types of heat lamps. The most common heat lamp for cats is an infrared heat bulb. This type of bulb produces visible light and infrared radiation, and it comes in a variety of different shapes and sizes.
Most pet owners we've talked to who use this type of heater prefer it because it heats up quickly and lasts a long time without needing to be replaced.
Cold winters? Get a heat lamp for cats; your cat will thank you!
It might be a good idea to get a heat lamp for your cat if you live in an area with cold winters. Cats love to explore and spend time outside, but they can get hypothermia or frostbite if left outdoors for too long during the colder months. A heat lamp is designed to help keep your cat warm when the weather is cold.
Indoor and outdoor heat lamps for cats
Heat lamps for cats come in two varieties: indoor and outdoor. Outdoor heat lamps are used to keep stray or feral cats warm during cold weather and for domestic cats that have free rein in your backyard. Indoor heat lamps are necessary for sick or injured cats and need to recover in a place where they can be monitored. Regardless of the type of heat lamp you decide on, you must check it regularly and make sure there are no pets nearby when you turn it on.
Outdoor heat lamps – An outdoor heat lamp for cats can potentially save your cat's life. Many people have cats that enjoy outside time. Creating a warm outdoor cat shelter is crucial to protect them from the elements.
When looking for an outdoor heat lamp for cats, you really want to look for one designed specifically for animal use. The reason is that some lights can get too hot and burn animals.
You also want to ensure the bulb is encased safely and cannot be easily knocked over. You also want to ensure that you use the correct wattage for your cat shelter.
If you are creating a small outdoor cat shelter or living in a warmer climate, you might be able to use a lower wattage bulb. If your cat house is larger or in a colder area, you should go with a higher wattage bulb.
It is vital that your cat can stay dry, warm, and comfortable while they are outdoors. You do not want them to suffer when they go outside, so having an outdoor heat lamp for cats can be a great way to keep them happy and healthy.
It is especially important if you have an older cat who has less body fat or one who is sick because they will
Indoor heat lamps – All indoor and outdoor cats need a warm, safe place to sleep. In the summer, your cat will use a cool place like tile or a shady spot, but it may be difficult for your cat to find a warm enough place in the winter.
For indoor cats, especially seniors, it is important for them to be able to find warmth when needed. This can be difficult in the winter as your home is colder, and you may not want to turn up the heat just for your pet.
A heat lamp for cats provides a safe way for your pet to keep warm. It also allows them to have more freedom of movement around the house without sacrificing comfort.
There isn't just one size or design of heat lamp, and the correct lamp model will depend on the individual cat using it.
There isn't just one size or design of heat lamp, and the correct lamp model will depend on the individual cat using it. Think about:
The age, size, and breed of the cat. A heat lamp for a kitten won't necessarily be appropriate for a larger adult cat.
The condition and health of your cat. If you have an older or unwell pet struggling with its circulation, you may need to give it access to a warmer area than other cats in good health.
The temperature outside. Suppose your home is kept at a lower temperature during the winter months. Your pet may need more help staying warm than if your house is generally well-heated year-round (and the same goes if you live in a naturally cooler climate).
Your cat's coat. Does it have long hair or short hair? Does it shed often? Is its coat thick or thin? How much fur does it have around its ears? These are all things that can determine how much heat your pet needs from a heat lamp to stay warm when outdoors during cold weather.
Use under supervision and with the guidance of your vet
When a cat is recovering from an injury or illness, the healing process can be sped up with the help of heat therapy. You and your veterinarian may find that using a heat lamp in your home can assist your pet's recovery from surgery, infection, or illness. However, not all cats will respond well to heat therapy. Therefore, your veterinarian may want to ensure that a heat lamp for cats is a good fit for your cat. If it is, the vet will recommend a heat lamp as part of the treatment plan for your pet. If you are using a heat lamp at home, it is essential to follow some guidelines to ensure no harm comes to you or your cat.
Heat lamps can help cats stay warm during cold weather
A heat lamp can help your cat stay warm during cold weather. Cats are susceptible to the effects of cold. A heat lamp will provide them with a warm and cozy place to sleep.
How far away should a heat lamp be from the cat?
It's essential to ensure the heat lamp is placed far enough away from the cat that they are not in danger of burning themselves. A good rule of thumb is to keep it at least 6 inches from the kitty's reach. It should also be placed to allow them to move away from it if they get too hot.
Finally, it should be placed in a draft-free area where your cat will feel comfortable and safe. If you have questions about choosing the perfect heat lamp for your cat, don't hesitate to ask your veterinarian.
What about heated cat houses for outdoor or feral cats?
A heated house for cats is an excellent solution. Outdoor cats, especially feral ones, need shelter from the cold and harsh winter weather elements. They can suffer from frostbit and hypothermia if left unprotected in extreme temperatures. Providing a heated cat house is a great way to help keep them warm and safe from inclement weather conditions! In addition, these houses are portable and can be moved around to protect even more cats in various weather conditions.
What are some alternatives to heat lamps for cats?
Heat lamps for cats are a popular way to keep kitties warm in the winter. But, really, any warm, flickering light will do the trick, and you can find them almost anywhere, from hardware stores to big box stores.
Keep your cat indoors
Get a heating pad made for cats
Get a heated cat bed
Give your cat extra blankets
Put a cat jacket on your cat
A word of warning
Keeping your cats warm in cold weather is essential. While most cats will find a way to keep themselves warm, there are times when additional heat is helpful. In addition, it's vital for kittens and older cats who may not be able to regulate their body temperature.
Heat lamps can help keep your cat warm in the winter, but they're also a fire hazard. If you're going to use a heat lamp, make sure it's secured, so it doesn't fall over and start a fire. Follow all manufacturer instructions carefully to prevent electrical fires or burns. Also, be sure that your lamp is strong enough to hold it and won't fall over if a cat jumps on it or bumps into it.
You should also never use an extension cord with your heat lamp. Extension cords are fire hazards and can easily be chewed by curious kittens.
An alternative method for keeping your kittens warm is using a heating pad for pets. Heating pads are great because they don't require any wiring and have built-in safety features that turn them off if they get turned over (or if your kitten chews through the cord). A heating pad can also be wrapped in towels and placed inside of an unused litter box which provides
Conclusion to Heat lamps for cats
While humans have the luxury of being able to bundle up when they get cold, cats do not necessarily enjoy these same luxuries. We are all a little biased towards our feline friends, and we all want to be the best cat mom or parent, but we honestly believe that cats deserve just as much warmth as us.
Heat lamps for cats are the best way to keep cats warm in the winter. This lamp will provide ample heat to keep your cat warm all winter long. One of the best things is, that they are very inexpensive and start at under $20.