Jarred or canned roux is a thing
Does the idea of roux intimidate you? If you have had a few roux disasters in the past, then it's time to give canned roux a try. Canned roux is convenient and inexpensive. It's shelf-stable and is available in both light and dark varieties.
Most people can't tell the difference between recipes that called for roux made from scratch compared to canned roux. For this reason, many people even prefer canned roux.
Benefits of using a canned roux
Savories canned roux is certified cajun (I'm not sure what is involved with this certification process).
Canned roux is the perfect addition to stews, soups, gravies, cheese sauces, and casseroles.
This gumbo is one of the best-jarred starters. The flavors are deep, and your whole house will smell wonderful.
Can you freeze roux?
Yes! If you make roux ahead of time, you can store the roux in the freezer for six months. Freeze for a year or longer if you vacuum seal the roux after it is in the frozen state!

What is a dry roux?
There are several dry roux available for purchase. Add a bit of dry roux to anything you need to thicken up. Some of the best brands of dry roux include:
Savorie's Instant Roux Mix is gluten-free and a great addition to gravies and gumbo for people following a gluten-free diet or a regular diet.
Tony Chacheries Instant Roux Mix – Roux in just three minutes! This is perfect for fat-free gumbo and gravies. No oil or butter is needed. Mix one part instant roux with two parts water. Bring mixture to a boil and cook to thicken.
Kary's Dry Roux – This dry roux will thicken anything it's added to and add a nice deep flavor. Kary's dry roux is a great roux-making shortcut, and the results are excellent!
Can you make a roux from almond flour?
Yes! The almond flour roux will not thicken like traditional flour. However, there are more keto roux alternatives.
How to make keto roux
Use Unflaovered Whey Protein – Combine 1/3 cup unflavored whey protein with melted butter in a saucepan. Cook and whisk the two until they are combined. The mixture will thicken.
This keto roux recipe will not get browned like a traditional roux, but it's still a fantastic game-changer substitute.
You could use this KETO ROUX for all sorts of recipes:
Low-carb nacho cheese sauce would be incredible over steamed vegetables.
Keto cauliflower mac and cheese
Low carb cream of ANYTHING soup (use your favorite veggies)
Beef stew – keto style
How do you make a vegan roux?
Vegan roux is easy to make. Here's what you will need:
3 tablespoons oil (your favorite) or non-dairy butter
2 tablespoons flour
2 cups liquid (non-dairy milk, or vegetable stock, etc.)
Combine oil with flour in a saucepan over medium-high heat. Continue, to cook and constantly whisk until the flour is the color of coffee with cream in it. At this point, you could add in additional liquids – depending on what you are making. Whisk and cook until thickened—taste for seasoning. Add salt, black pepper, and garlic powder as needed.
What to Serve with Gumbo?
Cooked white rice
Sliced french bread
Corn bread
Hush puppies
Corn on the cobb
What Salad to Serve with Gumbo?
What to do with a burnt roux?
We've all been there. You turn your back for just a second, and disaster strikes. Your roux gets away from you and gets burnt. In my experience, there is no recovering burnt roux. So it's best to start over, which includes cleaning the pot! However, be careful with the burnt roux and pot, they will hold a lot of heat.
10 Ready Made Canned Roux Recipes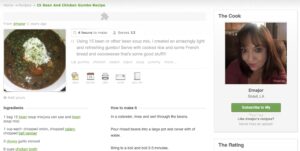 15 Bean Chicken Gumbo – If you like beans this recipe looks amazing! This recipe calls for one pack of 15 beans soup mix, onion, garlic, chicken breasts, smoked sausages, green onions, liquid smoke, Zatarains Garlic & Herb seasoning, butter, canned roux, okra, and cooked rice. This recipe takes four hours to make. I suppose you could shorten the cooking time by using canned beans.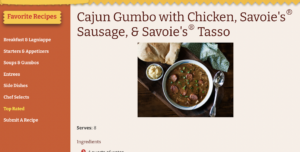 Cajun Gumbo with Chicken and Sausage – Not an okra fan? Then this recipe is for you! This recipe contains Savoie's canned roux, chicken, smoked sausage, onion, bell pepper, celery, green onion, and parsley. It makes eight servings and takes 3 hours 45 minutes to make.
Instant Pot Gumbo with Chicken – This amazing recipe calls for chicken thighs, andouille sausage, green bell, celery, onion, garlic, chicken stock, seasonings, and canned dark roux. The author recommends straining the oil out of the premade roux. The Instant Pot gumbo is ready in 1 hour 15 minutes, with time added for coming up to pressure.
Traditional Gumbo with Canned Roux Recipe
Gumbo for Dummies – store bought roux, a whole chicken, smoked sausage, smoked tasso, onion green bell, garlic, celery, green onions, and fresh parsley. The gumbo is ready in 2 hours 15 minutes.
Savoies Authentic Seafood Gumbo
Chicken Sausage Gumbo with Jarred Roux
Easy Gumbo with Store Bought Roux – scroll down to post #18
Canned Roux Recap
Roux is a type of thickening agent used in many recipes. It can be made from flour, fat, and liquid to create different consistencies.

There are various types of roux including white, blond, brown, or dark roux depending on the ingredients you use.

Be sure to select the prepared roux that best suits your recipe needs!
I hope this article has helped you find which premade roux will work best for your dish!

Please let me know what your favorite canned roux is by leaving a comment!