Are you looking for great Keto Beef Stroganoff recipes? If so, you have come to the right place. We have searched the internet and compiled 11 of the best keto-friendly beef stroganoff recipes.
These 11 best Beef Stroganoff recipes are easy to make at home in the slow cooker, Instant Pot, on the stove-top, or oven. All these recipes will fit into a Keto lifestyle and feature ingredients that are flourless, gluten-free, and are easy to modify!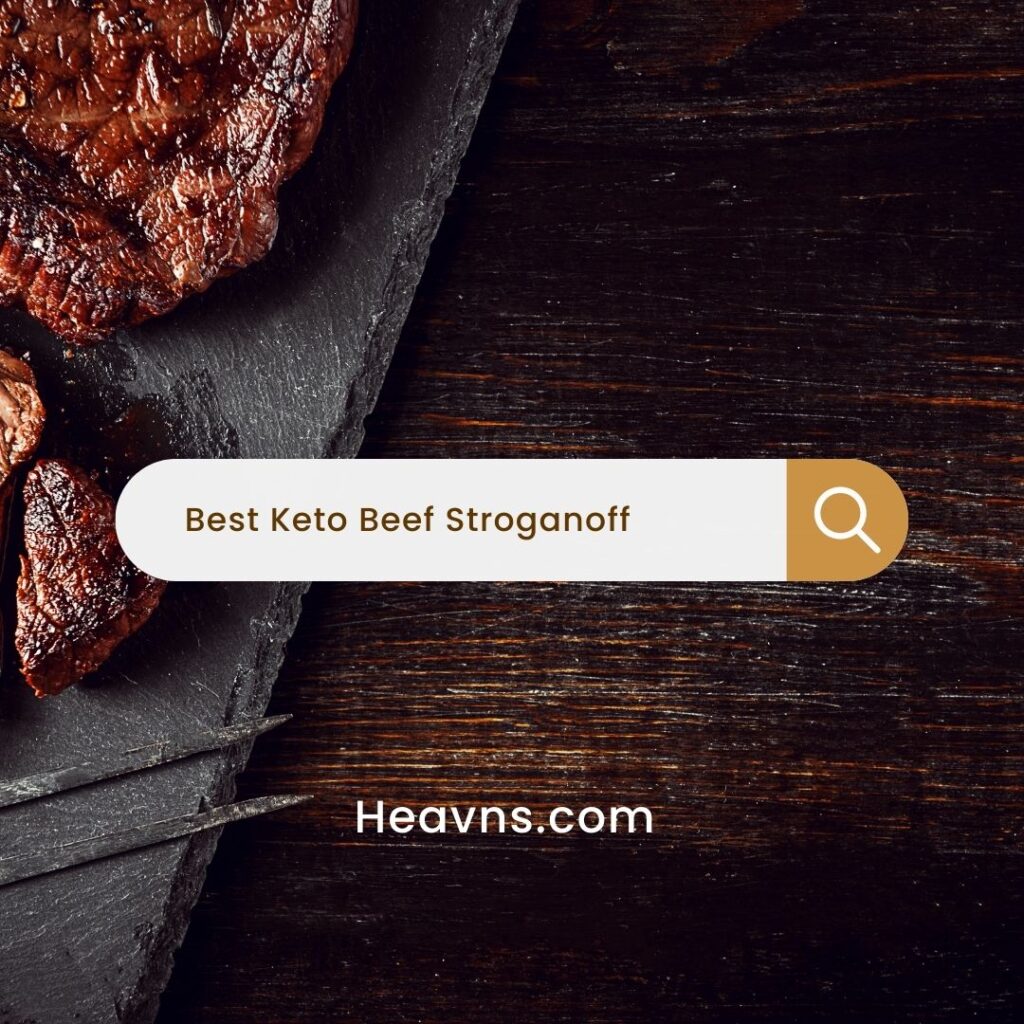 Keto beef stroganoff is a simple and delicious classic. The rich and buttery taste of the beef and the sourness of the sour cream make it an instant hit with everyone you serve it to. It's usually considered a Russian dish, but that doesn't mean you can't have it in other parts of the world as well. The meat and sour cream sauce combine perfectly with many low carb foods, so you have endless possibilities.
9 Reasons to try one of these 11 keto beef stroganoff recipes
Keto beef stroganoff is the ultimate comfort food. This dish is hearty and delicious!
If you love comfort food and keto, you should definitely try out this recipe list.
I hope you find your new favorite recipe here.
Recipes are super easy and affordable on a keto diet.
Leftovers (if there are any) make a perfect keto lunch for work.
Several recipes can be made in 30 minutes or less which is perfect for busy work nights.
You can choose the recipe based on your cooking method (instant pot, slow cooker, stovetop, and oven).
Easy low carb meals that are filling, easy to make, and reheat well.
If you love the taste of creamy, rich, and beefy, this recipe couldn't be more perfect for you.
11 keto beef stroganoff recipes
Keto Ground Beef Stroganoff Recipes
What can I eat keto stroganoff with?
Keto beef stroganoff is usually served over pasta or rice, but keto dietician Ashley Koff says she likes to serve it with a side of greens.
I like to serve this over a bed of fresh spinach noodles, or on top of mashed cauliflower. Both options keep the fat macros down while providing the base that delivers flavor to the dish.
19 keto side dishes for beef stroganoff
Keto beef stroganoff is so quick and easy to make when you know what ingredients pair well with it. Here are 19 ideas of keto side dishes that go great with beef stroganoff.
Riced cauliflower
Steamed cauliflower
Loaded mashed cauliflower casserole
Braised cabbage
Oven roasted cabbage steaks
Southern bacon skillet cabbage
Green beans with bacon
Keto green bean casserole
Bacon wrapped asparagus
Steamed asparagus
Sauted baby spinach
Tossed green salad with the best salad dressing ever!
Oven roasted brussel sprouts with bacon
Steamed broccoli
Sliced sauted bell peppers
Sauted summer zucchini
Zucchini zoodles
Keto zucchini casserole
Best keto noodle replacements
Zoodles – Zoodles are zucchini noodles and are a great low-carb alternative to traditional pasta or noodle dishes. You can make these using a spiralizer or julienne peeler. You can also purchase pre-made zoodles at most grocery stores, but they're easy enough to make at home.
Cabbage – Cabbage is another keto-friendly noodle replacement. Cabbage has only 1 gram of digestible carbs per 1 cup (89 grams) serving — but that's not all. It's also packed with fiber and vitamin K and is low in calories. Noodle replacements made from cabbage can be used in everything from lo mein to pho and stir-fry dishes.
Cauliflower – Like cabbage, cauliflower is high in fiber and vitamin K and low in digestible carbs, making it an ideal keto substitution for noodles. One cup (100 grams) of raw cauliflower contains 3 grams of digestible carbs. Additionally, these veggies are incredibly versatile and adapt well to many different flavors and cooking methods, so you can use them in just about any dish you love that calls for noodles.
How can I thicken low carb beef stroganoff?
You can use either arrowroot or a gum blend thickener. Have you tried using a 2:1 ratio of plain greek yogurt to sour cream? This makes the stroganoff super creamy without adding carbs. To thicken beef stroganoff without using flour, you can use a small amount of xanthan gum. One teaspoon should do the trick.
How to store keto beef stroganoff?
Keto beef stroganoff is surprisingly easy to store, and it can keep in the refrigerator for up to four days. To keep your keto beef stroganoff fresh and ready to eat, follow these steps for storing it safely.
First, cool your keto beef stroganoff. When you first make beef stroganoff, you should let it cool down naturally before putting it in the refrigerator. This prevents you from accidentally warming up other foods when you place the hot dish inside your fridge. It also gives the bacteria less time to grow on your food.
You can either cool your keto beef stroganoff by letting it sit at room temperature or by placing it in an ice bath. An ice bath is simply a large bowl filled with cold water and ice that you place food in to quickly cool it down. If you want to use an ice bath, make sure you do not submerge your entire dish — just put the pot of beef stroganoff into a larger bowl that contains water and ice.
Cool the stroganoff and transfer it to an airtight container. It will keep up to 4 days in the refrigerator.
To reheat, you can either microwave the dish, adding small amounts of water if the sauce is too thick, or place it in a saucepan over medium-low heat and stir occasionally until warmed through.
Freezing leftover keto beef stroganoff
Let beef stroganoff cool completely before transferring it to a freezer-safe air tight container. The stroganoff will keep up to 3 months in the freezer, although I recommend eating it within 2 months for the best flavor.
The keto beef stroganoff may separate a little while it defrosts, don't worry the flaro will still be the same.
FAQ
What can I eat keto beef stroganoff with?
Serve keto beef stroganoff with riced cauliflower, sauteed cabbage, sauteed spinach or sauteed zucchini slices. You could also serve with zucchini zoodles.
How can I thicken low carb beef stroganoff?
Thicken low-carb beef stroganoff by cooking longer until the creamy sauce thickens. Or you could use a little Xanthum Gum. Remember a little goes a long way!