Keto movie snacks do not have to be boring! Here is an excellent list of keto-friendly snacks. Some snacks require zero prep and are ready to go, others require a little prep, and some are perfect recipes if you are having a movie night at home.
31 Store-Bought Premade Keto Movie Snacks
Parmesan crisps – These crisps are salty, crunchy, and low carb. They are an excellent substitute for popcorn!
Pork skins – Pork skins are a great low-carb alternative to potato chips. They come in different flavors. My personal favorite is BBQ. Walmart.com has family-sized bags for less than $5.
Kale chips
Sliced salami
Lunch meats
Sugar-free beef jerky
Beef sticks
Pepperoni sticks
Summer sausage
Almonds
Pumpkin seeds in the shell – Pumpkin seeds in shells are a favorite low-carb movie theater snack option for many people. There's something about having to work to get the seed out of the shell that is so satisfying.
Cheese sticks
Moon cheese – Moon cheese comes in a variety pack, so you can figure out firsthand which flavor is your favorite. I personally love Cheddar Believe It.
Dill pickles – These are the ultimate snack. They are salty, crunchy, and low in both carbs and calories. The only negative to pickles is they are high in sodium.

Lily's Sugar-Free Chocolate Variety Pack has a large selection of sugar-free chocolates. In this Milk Chocolate Variety Pack, you'll find Caramel Popcorn, Covered Caramels, Peanut Butter Cups, and Chocolate Covered Almonds.

Lily's Sugar-Free Chocolate Bar Variety Pack has a dark chocolate variety pack that features four dark chocolate bars and two milk chocolate bars. The bars in this pack include Salted Almond Milk Chocolate, Creamy Milk Chocolate Bar, Coconut Dark Chocolate, Original Dark Chocolate, Crispy Dark Chocolate, and Almond Dark Chocolate. Click here to read the reviews. These bars have a 4.5-star rating of over 3,740 people.
Quest bars – Quest has many flavors that make excellent keto-friendly movie snacks.
Quest cookies
HighKey Cookies – HighKey has some great low-carb cookie options. Here's a variety pack so you can try different flavors.

Innofoods Dark Chocolate Keto Clusters – THESE are everything! Seriously, these are the best keto snacks ever! Pumpkin, quinoa, and sunflower seeds. This snack is highly addictive and just plain delicious!

Innofoods Keto Clusters – If you aren't a fan of chocolate, these keto clusters come in regular flavor, too, with the addition of almonds! The standard variety tastes amazing on Keto vanilla ice cream.

HighKey Sugar-Free Clusters – THESE are my #2 ultimate keto snack. They are so outstanding there's no way they are only 3 net carbs!

Sugar-free chocolate chips – Lily's is a great brand!
Seasoned seaweed – Seaweed is highly portable and inexpensive. It's a great salty keto movie snack.
Giardenia – In the jar or make your own.
Canned olives – A nice salty snack that makes a great movie snack. Green olives have fewer carbs than black olives.

Chocolate Hazelnut Cookies – These wafers are so good! They have just 4 net carbs!
Keto ice cream – There are several great brands to choose from nowadays!
Keto ice cream bars – You may have to try a few grocery stores, but some excellent choices are available.
Sugar-free jello cups – Walmart sells a 16 pack, and they are good!
19 Homemade Keto Movie Snacks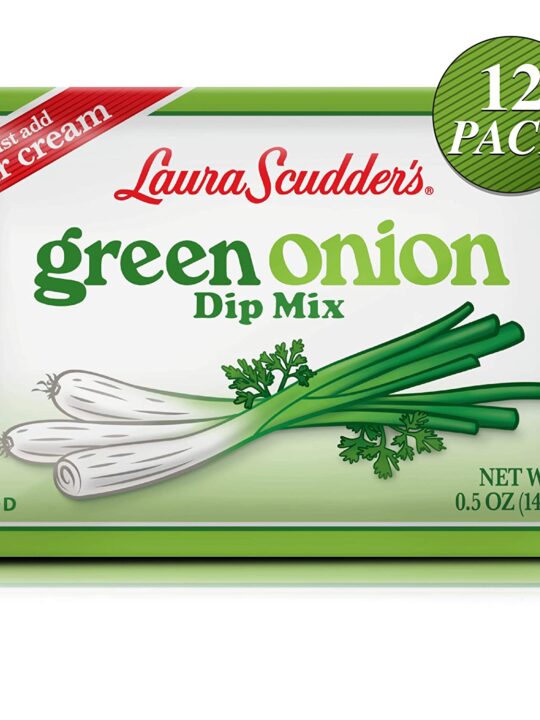 Pork skins with green onion dip or ranch dip – Pork skins taste amazing with your favorite dip. I love to eat pork skins with green onion dip. This keto movie snack is an excellent choice if you have a movie night at home.
Keto Chicken Crust Pizza – This pizza crust is made from canned chicken and tastes amazing! Add your favorite low-carb pizza sauce and toppings.

Quick Keto Tortilla Pizza – This low carb pizza uses low carb tortillas for the crust. Pizza is served in 10 minutes!
Baked pepperoni slices – Place pepperoni slices on a foil and parchment paper-lined baking sheet (with sides). Bake in preheated 425-degree oven for 8-10 minutes. Remove from oven and blot grease with paper towels. Return to the oven and finish crisping up. This should take about 3-4 minutes. Watch the pepperoni closely, or it could burn. Blot crispy pepperoni and allow to cool.
– Use these crispy pepperoni slices for a dip or eat them alone like chips.
Pinwheels made with low-carb tortillas – Spread room temp cream cheese on low-carb tortillas. Season with your favorite seasoning. Top with deli lunch meat. Roll tightly and wrap in plastic wrap. Unwrap the plastic and slice pinwheels into bite-sized pieces when ready to serve.
Perfectly cooked bacon slices – Cooking bacon in the oven perfectly every time!
Keto chicken nuggets – I found this recipe on TikTok, these nuggets would make the perfect Keto Movie Snacks when paired up with some ranch dressing or keto-friendly BBQ sauce.
– CHICKEN NUGGETS: Mix in a medium bowl: 2 cans chicken drained, 2 eggs, 2 handfuls of cheese, 2 tablespoons green onions, all seasoning.
– COATING: Mix in a medium bowl: 1/4 cup parmesan cheese, 1/4 cup almond flour, and all seasoning.
– Form nuggets from the chicken nugget mixture. Coat in COATING mixture. Pan fry four minutes per side.
Steak bites – YUM! Here's a great recipe.
Salami pickled asparagus bites – Spread room temp cream cheese on a slice of salami. Season cream cheese with season all. Top with pickled asparagus. Roll the salami around the pickled asparagus. Refrigerate the salami pickled asparagus bites. These salami asparagus bites make a very fancy guilt free keto movie snacks.
Lunchmeat wraps – Spread some cream cheese on two slices of lunch meat. Season with your favorite season. Place a dill pickle, sliced pepperoncini's, thinly sliced onion, etc., in the center and roll the lunch meat. Wrap in plastic wrap and refrigerate.
Taco chaffles with guacamole – Heat a DASH MINI. When the Dash is ready – layer a little cheese on the bottom, top with taco meat, and a little more cheese. Close the lid and cook until the Dash indicates the chaffle is done. Remove to a paper towel-lined plate.
Onion ring chaffles – Heat a DASH MINI. When the Dash is ready – layer a thin layer of cheese on the bottom. Top with thinly sliced onion. Top with additional grated cheese.
Leftover shredded or chopped meat chaffles – Make just like the above recipe. Layer cheese, meat cheese, and cook until the DASH. This indicates the Chaffle is done.

Keto grilled cheese "sandwiches" – Layer two or three pieces of deli lunchmeat. Top with a slice or two of thinly sliced cheese. Fold the "sandwich" in half—Cook over medium-high heat.
Keto cheese crackers – 1/2 cup shredded cheddar cheese, 1/3 cup blanched almond flour, 1/8 teaspoon garlic powder, a dash of salt, and 1 large egg yolk.
– Preheat oven to 425F. Combine cheese, almond flour, garlic powder, and salt.
Microwave for 30 seconds. Knead cheese dough until thoroughly mixed.
– Add in egg yolk and knead until blended.
– Lay dough mixture on a piece of parchment paper. Place another parchment paper on top of the dough and spread the dough into a very thin and even rectangle using hands or a rolling pin.
– Poke holes in the dough with a fork to prevent bubbling. Cut into 1inch squares.
– Bake "crackers" on parchment paper for 5-6 minutes until golden brown. Flip and bake an additional 2-4 mins for extra crispy crackers.
– Crackers will burn quickly in the last 2-4 minutes of baking, so check on them every minute or so.
Keto charcuterie board – Charcuterie boards, are so awesome! My daughter made this one for Thanksgiving. She bought most ingredients at Trader Joe's. These amazing keto movie snacks on a board have keto friend options as well options for people who love carbs.
Copycat Starbucks egg bites – Easily make your own Starbucks egg bites with the Dash Egg Bite Maker.


7 Homemade Sweet Keto Snacks For Movie Night
Mug brownies with whipped cream – There are so many great recipes online. I've never had a bad one.
Fat bombs
Low Carb Brownies
Keto peanut butter cookies
Keto root beer float with keto-friendly ice cream and diet A&W root beer. Yum!
7 Vegetable Low Carb Movie Snacks
Serve the veggies with low-carb dips or hot Brie cheese.
Cucumbers – slices or spears
Broccoli spears
Celery sticks
Cherry tomatoes
Mushrooms cut in half
Bell peppers with cream cheese and everything but the bagel seasoning or your favorite seasoning. You could also add some sliced pepperoni.
Radishes cut in half or sliced
6 Beverages for Keto Movie Snacks
Cherry Coke Zero
Iced tea with sugar-free MI0 lemonade
Diet A&W rootbeer with keto vanilla ice cream
Keto Smoothy
Vodka and seltzer water – if you are having a movie night at home. 😉
Mio water enhancer mixed with water, seltzer, or vodka
I can't wait to see what you think of these new and improved movie snacks.
If you have any other keto-friendly movie treats that aren't on this list, please share them in the comments below!
This post for Keto Movie Snacks may contain affiliate links.
Recent Posts