Ground squirrels are entertaining to watch, and their antics can be amusing to gardeners and homeowners. However, they are often destructive and can cause a number of problems.
Ground squirrels are garden pests
They eat your vegetables and steal your produce.
Are you sick of finding your tomatoes chewed down to nubs on the ground, despite planting and re-planting them? If so, you're not alone. So what's a gardener to do?
The squirrelinator ground squirrel trap is the best way to get rid of ground squirrels. It's easy to use and is safe for your children, pets, and other wildlife!
Squirrelinator repeating trap
The Squirrelinator was designed with two goals: to be easy enough for anyone to use but still practical enough to catch even the most elusive ground squirrel.
The squirrelinator is a repeating trap. Set the trap once, and you will be able to catch multiple ground squirrels throughout the day.
Setting the trap is easy, and you do not need to worry about hurting yourself. Instead, you simply make sure the top door is latched shut.
Place some bait in the center of the Squirrelinator. My favorite bait is peanut butter with some chicken scratch or nuts on top.
There is no doubt in our minds that this trap will work for you too. So what are you waiting for? Get one today!
The Squirrelinator repeating trap it's not the only way to get rid of ground squirrels!
Place the trap near burrows
Put it in their path to their nest or other food sources if you have a large number. Put it right by their hole if you think there's only one squirrel. Put it in their path to other food sources if you have a large number.
Less effective ways to get rid of ground squirrels
Here are some other ways you can get rid of ground squirrels and keep your garden safe:
Put up a fence. It's expensive, takes time, and doesn't guarantee success, but it might work if you're willing to invest in it. Ground squirrels can go flat and get through the smallest hole and climb, so the fence method will not be very effective.
Make an artificial owl and put it in your garden. Ground squirrels think that owls are a threat, so they'll stay away from the area if they see one—or at least one that looks like one! This method may work initially, but ground squirrels will get used to seeing the fake owl and will stop fearing it.
Put up a birdfeeder. This will encourage birds to come into your garden, which could scare off any ground squirrels who might be thinking about eating or stealing your produce. This probably will NOT work. Ground squirrels have been known to rob bird feeders.
Remove their hiding places. Ground squirrels prefer areas where there is grass or some other cover that provides protection against predators such as hawks and owls or even humans with guns. Removing places where grounds squirrels can take shelter from predators, WILL HELP, but it will not eliminate your ground squirrel problem.
Ignore them! Garden pests are just as much a part of gardening as everything else that happens in the garden—they're all just part of the circle of life! Ground squirrels will quickly multiply and have been known to destroy building foundations. It is ALWAYS A BAD IDEA to ignore a ground squirrel problem.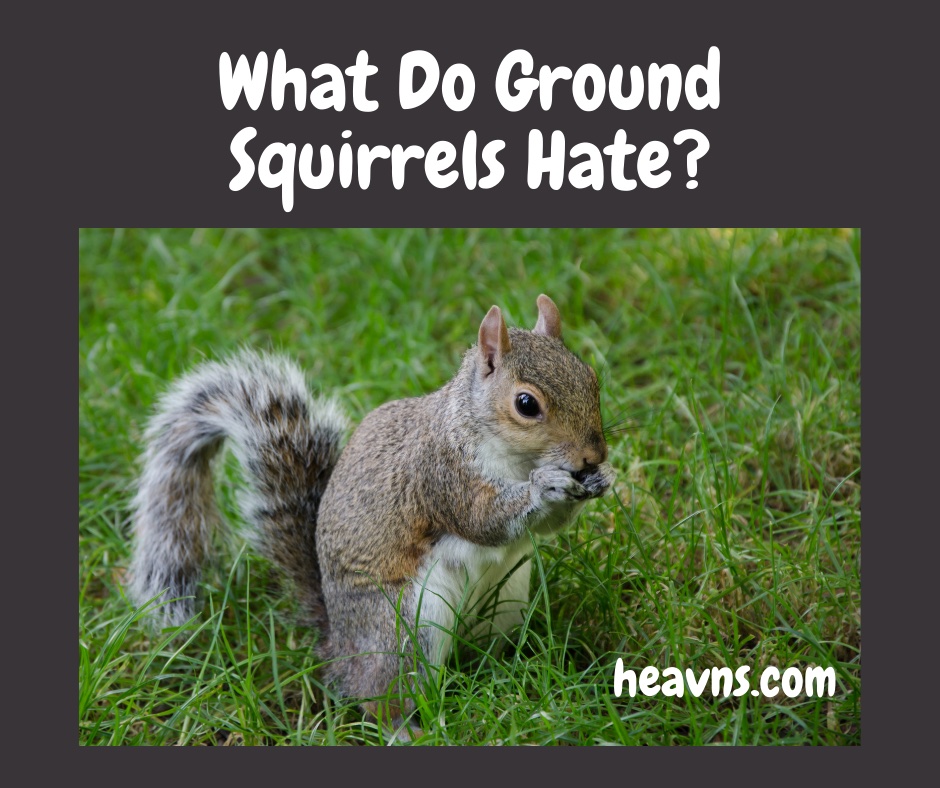 Ground squirrels are garden pests
Ground squirrels drive gardeners crazy. Ground squirrels will eat anything that you grow, including but not limited to fruits, nuts, vegetables, flowers, tubers, bulbs, and ornamentals.
Ground squirrels eat any plant they can reach by looking above ground, including garden crops like carrots and tomatoes. Unfortunately, they also eat below ground, causing damage to root crops like potatoes.
Gardeners fear these burrowing troublemakers
Ground squirrels are known for their destructive behavior toward gardens. They dig holes in lawns and flower beds.
Their burrows and runs make it dangerous to walk on your property
People have tripped and fallen and even broken their necks in ground squirrel burrows.
They dig tunnels and burrows under the ground, which can cause trouble for humans and pets. However, the most significant danger of ground squirrels is their burrows. Ground squirrel burrows are holes that can be anywhere from four inches to over six inches!
Burrows are often found in groups or clusters, connected by tunnels that stretch outwards, sometimes as far as thirty feet away from each other.
Ground squirrel damage happens when they burrow beneath lawns, patios, driveways, building foundations, and garden beds.
The burrows look like holes that you can see in your yard. The opening is round and clearly visible in lawns and flower beds. However, they may not be as visible in tall grassy areas.
In concrete areas such as patios and driveways, you can identify ground squirrel damage by a small mound of soil that forms around the opening to the burrow underneath.
The most severe issue with ground squirrel burrows is creating trip hazards. This may lead to broken ankles or worse if someone falls into the hole or steps into it without knowing it is there.
Ground squirrel burrows and runs are dangerous for pets, too.
This sounds like an exaggeration, but it's not.
Here's one example of what can happen:
"I didn't know there was a ground squirrel burrow underneath the straw I was stepping on while I gave water to my sheep," said Kristine Shores, who lives in rural Lassen County, California.
"My foot suddenly dropped into the hole, and I fell forward. Ouch! It hurt so much."
Shores suffered a badly sprained ankle that took months to heal properly. She saw the doctor more than once, wore a brace, and was unable to work.
The damage they do to gardens is not just the food they eat
They dig up plants as they graze on roots, leaves, stems, and fruit. Gardeners may have plants dug up and disappeared in a single night or early morning. Squirrels may eat all the fruit from fruit trees and vines down to the last piece of fruit that falls on the ground near their holes.
Ground squirrels destroy building foundations
The potential damage caused by ground squirrels if allowed to live at your home and multiply.
Gnawing on wood – Ground squirrels will chew on wood, such as wood porch steps and fence posts.
Utility wires – They may gnaw on underground utility wires.
Irrigation system damage – Ground squirrels will also burrow around irrigation systems, causing leaks and electrical lines causing outages and shorts.
Sewer system damage – Ground squirrels have even been known to plug up sewer systems pipes with their burrowing activity.
Driveway damage – They can also burrow under your driveway, which can cause small cracks at first. Still, if left unchecked over time, the driveway will become unstable to drive on and a safety hazard.
Building damage – Burrows can cause structural damage to foundations and footings, especially in older structures.
Ground squirrels need to be removed from around buildings as quickly as possible because their burrows can weaken the structural integrity of a building. Barns and fence posts may fall over due to ground squirrels' undermining of their foundations. In addition, the burrows allow water to seep under a structure, which can cause mold and mildew problems. The soil underneath the structure may weaken further if it becomes habitually wet, allowing cracks and sinkholes to form on top of it.
Ground squirrel control methods
Shoot and destroy burrows – Ground squirrel control methods include trapping or shooting them and destroying their burrows.
Poisoning – These animals can also be poisoned with strychnine or zinc phosphide. However, these chemicals need to be used carefully because they are toxic to pets and children. If you have young children or pets, poisoning should be avoided. It's just not worth the risk.
Live trap – The Squirrelinator trap is THE BEST trap for catching these rodents. If you choose to use a live trap, you must be prepared to dispose of the ground squirrels in your trap. DO NOT RELOCATE the ground squirrels, as you will only be passing on your ground squirrel problem to others. Relocation is also illegal in many states, such as California.
Conclusion to squirrelinator ground squirrel trap: Your new best friend
Ground squirrels in the garden are not cute creatures; they cause much damage to gardens and building foundations.
The Squirrelinator is a unique and effective way to remove ground squirrels from your property. However, if you want to take care of the issue once and for all, it might be worth investing in one of these high-quality repeating ground squirrel traps.